Picnic Recipes with Cheese
Picnic salads and sandwiches are the staples of summer eating…and cheese makes them better! Learn how to cheese up your summer picnic recipes.
A book of verse beneath the bough,
A loaf of bread, a jug of wine, and thou
Beside me singing in the Wilderness—
Ah, wilderness were paradise enow!
– Omar Khayyam, The Rubaiyat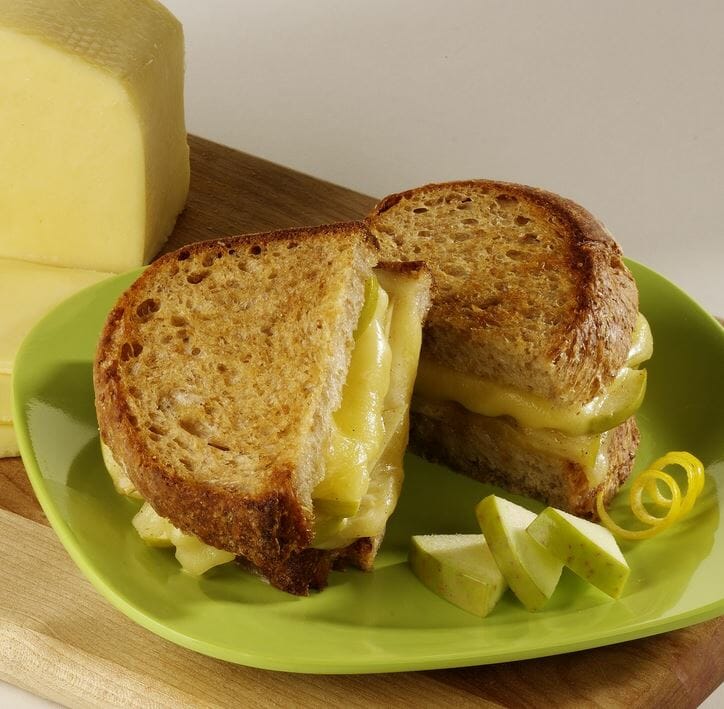 He didn't know it at the time (the 12th century), but the Persian poet/philosopher/scientist quoted above was describing a picnic. The French word pique-nique didn't exist for another 500 years, and was used to describe a group of diners in a restaurant who brought their own wine. (Apparently picnics tended to feature wine.) The English changed the word to picnic some 50 years later, and applied it to a fancy meal eaten outdoors by people of leisure…as opposed to the obligatory lunch in a field eaten by the typical farm worker who would rather be in a restaurant with a bottle of wine.
Today picnics are enjoyed by many different groups of people—from a couple enjoying a romantic lunch on a blanket, to a family outing at the park, to the outdoor summer office party. Picnics are so popular in the United States that July has been named National Picnic Month. But whether or not a jug of wine or a loaf of bread is involved, Omar Khayyam left out one important element that goes incredibly well with both: cheese.
Cool, creamy cheese is the perfect addition to the picnic lunch's two main staples: sandwiches and salads. Following are some recipes that will have you packing the picnic basket and blanket and heading outside.
Picnic Sandwich Ideas with Cheese
Khayyam had it right about the loaf of bread…but it's best to slice it up and use those slices to surround tasty fillings of meat, vegetables, and cheese. Sandwiches are perfect for picnics. Not only are they cool on a hot day and require no cooking, they can be made in advance and travel extremely well.
Classic Sub Sandwich
If you want to do minimal slicing, consider the classic sub sandwich. Named for its shape, the submarine uses a whole loaf of French bread sliced lengthwise to make the perfect vehicle for meats, cheeses and toppings. Virtually any semi-soft or semi-hard cheese will do for a sandwich, used in combination with deli meats like ham, pastrami, or summer sausage.
Ham & Swiss
Is there a more classic combination than ham and Swiss? The Ham and Wisconsin Swiss Submarine showcases this dynamic duo, accented with pecan-green onion cream cheese, crispy lettuce and sprouts.
Antipasto Sandwich
If you want your sandwiches to be finger food, or appetizers for a later main event, try these antipasto sandwiches with rich Butterkäse.
Egg Salad Sandwich
And, of course, almost everyone loves that summer classic, egg salad…but not many consider adding cheese. This Wisconsin New Age Egg Salad uses shredded Cheddar in the egg salad and doubles up with sliced cheese on the bread.
Picnic Salad Ideas with Cheese
Yes, we know, egg salad and potato salad don't really count as salads—at least if your opinion is that a salad needs to be a vegetable dish. But they sure taste great at a picnic. Those tangy dressings made with sour cream and/or mayonnaise are soothing balms for the soul on a hot day. And they're even better with cheese, as this Family-Style Potato Salad will convince you.
Yes, you do need to be careful about mayonnaise-based salads, but they're not quite the bacteria farms many would have you believe. In fact, food safety experts say the acidic ingredients in mayonnaise may even provide a little extra protection against bacteria…but don't take any chances. Keep these salads on ice until use, and don't leave them out for long. At any rate, they're probably more dangerous as a source of fat and cholesterol than they are of bacteria.
Greens make an appearance—albeit a supporting role—in this hearty seasonal salad showcasing Baby Swiss and blue cheeses, ham, and homemade bagel croutons. (Of course, you can save time by purchasing croutons of your choice.)
Or, if you want to try something a little more exotic and celebrate the melting pot that is America—with a homegrown Wisconsin twist—try this Greek/Middle Eastern-style Tabbouleh and Wisconsin Cheese Salad. It just needs an hour to chill in the fridge, and instructions are included for packing for a picnic.
Picnic Drinks
We're not going to get picky about what to pair with these casual dishes; the freedom from restrictions is part of the charm of getting away from it all. Perfect picnic beverages are pretty subjective, and dependent on personal taste. Beer, lemonade, and sparkling water are all great with everything listed above. If you want to pack the proverbial "jug of wine" in your picnic basket, you can't go wrong with a nicely chilled rosé as they do in Provence. And if that's your style, here's a sophisticated little snack that's great with wine and will put the finishing touch on your picnic with an intriguing blend of savory and sweet:
Rosemary Blue Cheese Ice Box Cookies
Bon appétit!