Meet Our Master Cheesemakers
Backed by over 160 years of cheesemaking, Wisconsin is the only state that requires a licensed cheesemaker to monitor every pound of cheese made in the state. The Wisconsin Master Cheesemaker® Program is a rigorous 3-year course, and apprentices must have at least 10 years of experience before applying. As the only program of its kind outside of Europe, it ensures that the old-world standards of quality and craftsmanship continue to produce the finest cheeses right here in Wisconsin.

With nearly 600 U.S. and world awards between them, meet some of our favorite Master Cheesemakers, and learn more about their award-winning specialty cheeses.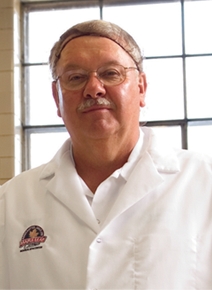 Jeff Wideman
Maple Leaf Cheese has been making natural Wisconsin cheeses for more than 100 years, always using fresh milk only from the local farmers who own the Cooperative. Master Cheesemaker Jeff Wideman has been the leader at Maple Leaf for more than 30 years. As winner of four international and 24 U.S. awards, he's very proud of the way Green County's cheese industry supports local farmers, gets the best, purest milk possible, and is on the cutting edge of the specialty cheese trend with a remarkable concentration of cheesemaking heritage and expertise. He lives his passion every day, and we're proud to share his world-class expertise here with you.